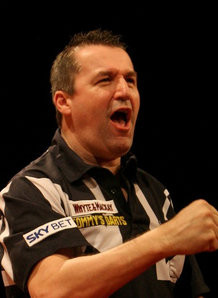 Ronnie Baxter will bid to inflict Phil Taylor's first defeat in the 2010 Whyte & Mackay Premier League when they meet at the SECC in Glasgow on Thursday night.
Taylor sits five points clear in the Premier League table having gone through the first eight weeks of the season unbeaten.
Baxter, though, allowed Taylor to come from 4-0 down to take an 8-6 victory when the pair met in Bournemouth earlier this year, and is determined to get his revenge.
"I've put the game in Bournemouth behind me now and I'm joint second in the league, but I'm looking forward to playing Phil," said the 'Rocket'.
"I might have to see if he can come back from me being 5-0 up this time - I've gone 3-0 up against him and lost in the past, I did 4-0 in Bournemouth and blew it, so we'll see what happens in Glasgow. I'll be pushing to win by whatever score I can."
Taylor and Baxter have enjoyed many duels on the oche during their careers, and the world number one has been impressed by his rival's return to the top six of the PDC Order of Merit.
Best
"Ronnie and myself started our careers around the same time and this is probably the best I've seen him play," said Taylor.
"If I don't play like I can on Thursday he'll beat me. He led 4-0 last time we played and I can't afford to do that again.
"I've been a bit slow starting this season as it takes me a couple of legs to get used to the stage because the environment is different to the practice room, but I'm handling it pretty well so far."
The night in Glasgow could prove crucial for the play-off hopes of some other players, with Adrian Lewis and Simon Whitlock - joint fourth on seven points at present - facing the league's bottom two players, Raymond van Barneveld and Terry Jenkins.
Lewis produced a stunning display to defeat van Barneveld 8-3 in Bournemouth in week two, averaging over 105, and overcame reigning champion James Wade last week.
"It was important to win last week and if I can win my next couple of games I've got a great chance of reaching the play-offs," said Lewis. "I know I've got to hit my doubles against Barney and not give him chances."
Big wins
The night's other game sees left-hander Wade take on Mervyn King, who currently sits in joint second place and enjoyed two big wins over the world number three last season.
"I did well against him in the league last year and started with a win against him this year as well, so hopefully I can continue that," said King.
"James hasn't played his best darts in the Premier League and it's not been the James Wade I know so well. Hopefully he can get back on track, but after we play!
"Hopefully we'll be in for a great game and I'll come out of the right end of it."
Week Nine
Raymond van Barneveld v Adrian Lewis
Simon Whitlock v Terry Jenkins
Ronnie Baxter v Phil Taylor
Mervyn King v James Wade