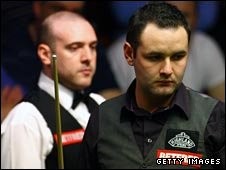 Snooker players Jamie Burnett and Stephen Maguire are among five men who have been referred to prosecutors in Scotland, BBC Sport understands.
It relates to alleged irregular betting patterns linked to a match at the UK Championship on 14 December 2008.
Strathclyde Police have conducted a 17-month investigation into the match.
They have now decided there is enough evidence to pass the case to the Procurator Fiscal, who will decide whether charges should be brought.
A statement from Strathclyde Police's economic crime unit read: "Five males aged 35, 34, 31, 31 and 29 are the subject of a police report that is being submitted to the Procurator Fiscal.
"(It) is in relation to the alleged irregular betting patterns associated with the snooker match involving Jamie Burnett and Stephen Maguire at the UK Championship on 14 December 2008."
Maguire, 29, is the world number two, while fellow Scot Burnett is ranked 40.
Investigations are into their first round match at the 2008 UK Championship, which Maguire won 9-3.
Bookmaker Victor Chandler stopped taking bets on the match more than 24 hours before it started because of alleged irregular patterns.
The company also reported its concerns to snooker's governing body, the World Professional Billiards and Snooker Association.
Both players have always insisted they are innocent of any wrongdoing.
Earlier this week Maguire told BBC Sport: "I know I've got nothing to worry about, because I've done nothing wrong."
The player, who faces Stephen Lee in the first round of the World Championship in Sheffield this weekend, added: "I'm just focused on my next match - this is the biggest tournament in the world."
Lee is currently on police bail, after being arrested on suspicion of cheating on 11 February following a joint operation between the Gambling Commission and West Midlands police.
Barry Hearn, who became chairman of the WPBSA in December, has vowed to clean up the image of the game.
On Wednesday, he announced the appointment of former Metropolitan police detective chief superintendent David Douglas to the board of the WPBSA.
No snooker player has ever faced criminal charges relating to irregular betting.
Former world champion Peter Ebdon was investigated in relation to a match against Liang Wenbo at the 2008 Northern Ireland Trophy, but police found there was not enough evidence to press charges.
Snooker's authorities have banned two players in the past.
In 2006, Quinten Hann was suspended for eight years, having been found guilty of intention to fix a match.
A newspaper provided the WPBSA with evidence of the Australian offering to arrange a defeat in the China Open.
And in 1995, Peter Francisco was banned for five years after losing 10-2 to Jimmy White in the first round of the World Championship at the Crucible.
There had been an unusually high proportion of bets on a 10-2 scoreline and a panel of three ex-players decided some of Francisco's shot making and shot selection was so extreme as to constitute cheating.