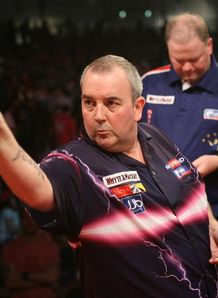 Van Barneveld a shadow of his former self as Taylor wins again
Phil Taylor took advantage of a below-par Raymond van Barneveld in Cardiff to retain his unbeaten record in this year's Premier League.
Neither player was at his best in the night's closing match but it was Taylor who hit the doubles when it mattered to clinch an 8-2 success.
Barney took his first leg with the darts but proceeded to lose the next three to Taylor as the Dutchman passed up winning chances in six successive legs.
Van Barneveld missed two shots at double 16 to allow Taylor to take a 2-1 lead and the 'Power' claimed the next as well after his opponent fluffed double eight.
Barney had the chance to break back but missed a dart at double fives after hitting two 60s, Taylor then making no mistake on double two.
The reigning world champion took the sixth leg against the throw as well when his rival missed tops, Taylor taking out double eight for a 5-1 cushion.
The interval saw a brief revival for van Barneveld, who finally hit eights. But normal service was resumed as Taylor took the next three legs with ease.
"It was not the best of games tonight, I think we were both under pressure a little bit," Taylor told Sky Sports after averaging just 96 in the match. "Barney seemed to drop his head, I don't know why.
"Maybe he should have a little break, who knows. He'll put himself right.
"These players are hungry and that's why me a Raymond have got to buck ourselves up."
Clinical
Mervyn King demolished an out-of-sorts Terry Jenkins 8-2 in the opening match, setting the tone by opening a 2-0 lead early on.
Jenkins took the third but King reeled off the next five legs with a clinical display of finishing.
A maximum set him up for a 4-1 lead and although he narrowly failed to checkout 82, he came back to hit 10s and he extended the advantage by taking out 50 in the next with Jenkins way back.
The seventh frame was a shocker for Jenkins as King took it against the throw with a 74 out shot, and the latter made it 7-1 after Jenkins missed a dart at double 10.
King appeared to take his foot off the gas having secured at least a point but Jenkins was unable to capitalise, albeit taking out tops to reduce the deficit by a leg before his opponent finished it off with a double-top of his own.
"I don't think I played that well, but Terry wasn't Terry," King said. "He missed a couple of doubles early on and after that he didn't really seem into the game."
Fightback
Ronnie Baxter survived a fightback from Simon Whitlock to remain third in the table after an 8-5 success.
Baxter was never behind in the match but after winning three successive legs to go 6-3 ahead, the Australian pulled it back to within one before Baxter closed it out.
There were few big finishes after Baxter's opening 124 checkout, though he did hit double-top in consecutive legs to open up a lead after the pair had been locked together at three legs apiece.
Whitlock briefly hit back, with double-16 in the 10th and double-12 in the next to checkout 75.
However, the Lancastrian opened with a 180 in the 12th leg before checking out 56 to seal at least a point and when Whitlock missed three darts at double top, he stepped in to close it out with 10s.
Deadlock
Adrian Lewis came through a gripping encounter with defending champion James Wade, breaking the deadlock by winning the last four legs.
There was never more than a leg in it after 10 frames - Wade twice winning against the throw in the fifth and ninth only for Lewis to hit back immediately.
But 'Jackpot' did it again in the 11th when a 180 set him up for double eight in the next, he took it out at the second attempt.
Wade was unable to claw his way back this time, missing seven darts at doubles to level again before Lewis took the unexpected opportunity to checkout 15.
With a point safely in the bag, Lewis quickly wrapped up the victory by nailing double 16 in the next.
"Wadey actually played well tonight - you can't say he played crap because he didn't," he said. "I've got it right tonight so I'm happy.
"I was up there to win tonight and that was my aim. I've never beaten James on TV so tonight I thought 'come on'."