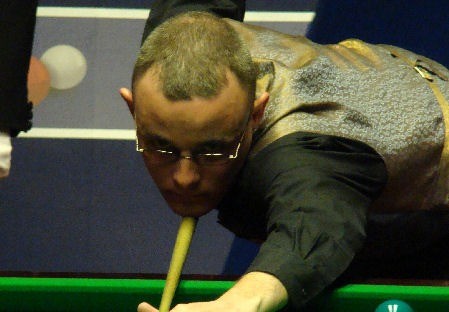 Former croupier Martin Gould holds all the cards against Austrialian Neil Robertson, needing only two more frames to book a quarter-final spot at the Betfred.com World Championship
Trailing 6-2 after an impressive display of potting from Martin Gould, Neil Robertson would have been hoping for better fortune in the evening session.
He started well, a fluent 86 giving himself some hope. But that hope was soon dashed in the next, as the 28 year old Gould replied immediately taking the next 93-0 with runs of 31,46 to restore his four frame advantage.
Robertson the winner of the Grand Prix this season, again pegged a frame back, winning the scrappy eleventh but again it was former part-time croupier who held all the cards, breaks of 58 and 30 eased him to his four frame lead.
Clearly not daunted by snookers' historic venue, Gould looking evermore confident extended his lead to five. contributions of 48 and 31 opened a very commanding position.
Robertson sat in his chair looking totally bemused by the attacking display of potting being inflicted up him. The like of which he himself normally hands out to his opponents.
The 'Thunder from down' was again six behind at the conclusion of frame fourteen. Gould going about his business in carefree fashion, almost like having a game with his mates in his local club, rattled in another fifty plus break.
The 'Australian Ace' with the never say die atitude, responded to the challenge with a determined 65 break but the qualifier Gould lived up to his nickname 'the Potter from Pinner', potting the balls fun, in exhibitiion style he nothed up a fluent 63 break.
They play to a finish Saturday afternoon at 2:30pm with Gould on the verge of a big upset at the Betfred.com World Championship. He needs only two more frames for a place in the quarter finals of snookers' greatest tournament.