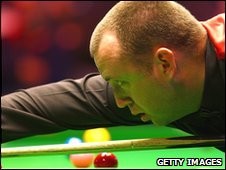 Mark Williams has backed World Snooker chairman Barry Hearn to take a controlling stake in the organisation.
Two-time world champions Williams, who won his first title in four years at the China Open this month, also says it is "good" that Lee Doyle resigned.
Doyle this week quit as a World Snooker director in protest at Hearn's plans.
"I'm glad he [Doyle] has gone off the board... let Hearn run it, let him do whatever he wants to do, we've got him in there," Williams told BBC Wales.
Doyle, chairman of the 110sport management group which represents stars including Ronnie O'Sullivan and Stephen Hendry, objects to Hearn being handed a 51% stake in snooker's governing body.
Hearn, who has laid out his plans to "reinvigorate" the sport, said that as a rival promoter Doyle's position had become "untenable".
"If he [Hearn] wants 100% of the company just give it to him, what difference does it make?" Williams added.
"It's not like he's taking money off us, we haven't actually got anything, so just let him carry on.
"He wants to run it all and make the decisions all by himself and I think that's the only way forward."
"Obviously I've heard people talking and brag up other votes, to not vote for him, and this and that.
"It just makes me laugh really and I'm not getting involved in any of that this time round.
"I'm just going to vote for Hearn and, fingers crossed, everyone else does. If they don't then they're just crazy."
All the internecine turmoil comes just before the start of the World Championship at the Crucible Theatre in Sheffield.
Williams is pleased with his form after winning the China Open, although he admits he is still "nowhere near" the level that has previously seen him win twice at the Crucible.
"If you win any tournament in this day and age, with all the [good] players about, it does boost your confidence," Williams said.
"But to win one just before the World gives you a lot of confidence and hopefully I can go there and carry the form on that I've been showing.
"It's just a shame I haven't got past, I think, the second round there for God knows how many years.
"Hopefully I'll give myself a good chance to have a good run in it this year.
"There's no easy draws but I've got a tough draw: Marcus Campbell in the first round, who obviously is an excellent player, and then if I win I've probably got Ronnie O'Sullivan in the second.
"They don't come much harder than that. I think I had him in the second round last year and he beat me there but... I'm looking forward to it."
Blackpool Snooker - Snooker Cues
If you would like to purchase a Snooker Cue why not view our collection of Snooker Cues. Blackpool Snooker currently have a special offer on the Marksman Snooker Cue (Offer end Sunday 18th April)