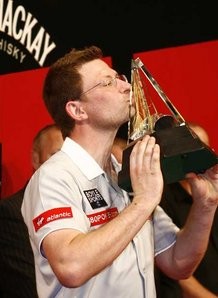 The top two players in the Whyte & Mackay Premier League clash at the AECC in Aberdeen on Thursday, as the battle for play-off places hots up.
Unbeaten four-time Premier League champion Phil Taylor takes on second-placed Mervyn King in one of four games set to be held in front of a 4,000 crowd in Aberdeen.
While they may be battling in the most high-profile game of the evening, the other three contests could hold greater significance in the race for places in the league's top four.
With only two league nights remaining after the visit to Aberdeen, the games involving Ronnie Baxter and reigning champion James Wade, Raymond van Barneveld's clash with Ronnie Baxter and Simon Whitlock's meeting with Adrian Lewis all hold added significance.
Wade and Baxter sit alongside Simon Whitlock on 11 points - two behind King - in the table, while Lewis is two points adrift on nine points. So the games between that quartet are key.
Defending champion Wade lost his opening three games this season but has only been defeated once since, and admitted: "It's my biggest game of the season.
"I'm coming into a bit of form and I'll be ready for Ronnie, and I'm sure he'll be ready for me. I hope he is because it will be a good game, and I owe Ronnie one, because he's hurt me a few times in tournaments just lately."
Baxter admitted: "I'm holding fourth place at the moment but every point counts, and every leg does as well.
"It's going to be extremely tough for me because I play James, Adrian and Raymond in my last three games but I've got to get on with it and pick my game up."
Whitlock defeated Lewis 8-4 when the pair met previously this season, and said: "It's really close and it's going to come down to the last week, but the next couple of weeks are very important for a lot of players."
Chances
Jenkins has to defeat bottom-placed van Barneveld to keep alive his outside chances of claiming a play-off place, having won his last two matches to move three points behind the top four.
Van Barneveld hit the highest average so far in this season's Premier League of 106.92 when he defeated Jenkins 8-4 in Manchester - one of only two wins for the Dutchman so far in a disappointing season.
"He can always turn it on but I'll be ready for him and expecting it this week," said Jenkins. "He was the real Barney when he played me and hit a 107 average in Manchester.
"That was just my bad luck in a way, but it was one of the game that's made me struggle because it was a big loss for me. I've got a couple of wins in the last two weeks and given myself a chance of reaching the play-offs.
"The pressure is on the others to stay in the top four and I can just go up there and throw my darts."
Top two
The night's other game sees the league's leading two players meet for the second time this season.
Mervyn King is one of only two players to take a point from unbeaten league leader Phil Taylor, having drawn in Manchester, and the 15-time World Champion is expecting another tight battle in Aberdeen.
"He's having a brilliant season and I'm very much looking forward to the game," said Taylor. "Mervyn is one of the most dedicated players, if not the most dedicated player, I've seen during my career.
"He does everything right, is very one-track minded in how me approaches the game and he doesn't mess around - he just gets on with his job and does things right."