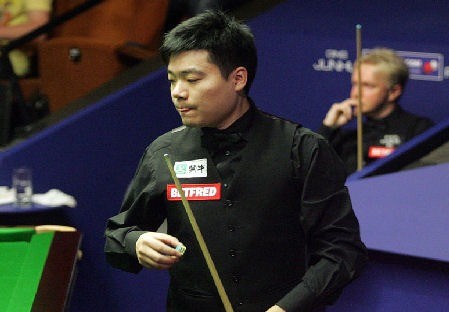 Reigning UK Champion Ding Junhui will take a commanding 8-1 lead into the second session of his first round match against Stuart Pettman at the Betfred.com World Championship.
The Chinese sensation had an excellent morning session which began with breaks of 42 and 44 to give him an early advantage.
The second frame was a turgid affair with Ding taking 23 minutes to clinch it. In the next, Pettman had the chance to snatch a frame that Ding had been well in charge of after the Chinese player had failed to pot the final red. Pettman appeared to be clearing up before a missed blue at pace down the bottom rail gifted the frame to his opponent.

Junhui went further clear at 4-0 thanks to a superbly measured clearance of 77 after Pettman had been in first with a run of 51. Things did not improve for the Preston player after the mid-session interval as Ding knocked in a contribution of 88 in frame five and then a wonderful clearance of 120 in the sixth to forge further clear at 6-0.
But Pettman, a former China Open semi-finalist showed resolve in the next allowing the world number 13 just three points to post his first frame of this years championship.

It was Ding though who had the final say. It looked as if Pettman was on the verge of an excellent frame stealing clearance in the eighth, but the 34 year-old jawed the final green and Ding was able to step in to clear from green to pink to make it 7-1. He also added the final frame of the session after a break of 95 which ended when he ran out of position on the final green.

The match will resume at 10am on Wednesday.