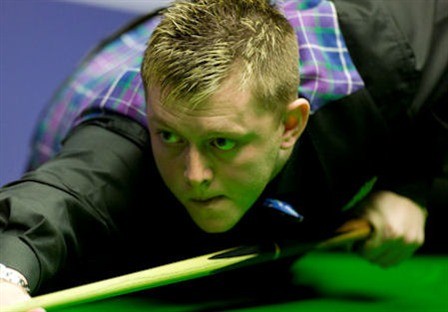 Young guns Ding Junhui and Mark Allen knocked experienced pros Peter Ebdon and Stephen Hendry out of the Sanyuan Foods China Open to set up an intriguing semi-final battle.
Allen came from 4-2 down to beat seven-times World Champion Hendry 5-4 and reach his first ranking semi-final since he got to the last four at the Crucible 11 months ago. Clearly comfortable with playing in China having won the Wuzhou International Group Jiangsu Classic invitation event last June, the 24-year-old from Northern Ireland will hope to add his first ranking title in Beijing on Sunday.

The first four frames today were shared, left-hander Allen knocking in breaks of 72 and 69 while 41-year-old Hendry made a 126 in frame two. Allen started frame five with a 56 but Hendry battled back to pinch it with a 34 clearance, and the Scot looked in control when he added the next. Back came Allen with 63 to make it 4-3 and he won the eighth in three scoring visits. Hendry had two early chances in the decider but missed a mid-range red, then a brown to a centre pocket, and Allen capitalised from the latter miss with a superb 77.

"At 4-2 down I still believed I could win, and I held myself together well to win the last three frames," said Allen, who gained revenge on Hendry for their last meeting, when the legend beat him 10-9 from 9-7 down at the Crucible in 2008.

"I can take a lot of confidence from today's result, although I will need to improve in the next round. To play Ding in China is the sort of game we practise for. There will be a big crowd and good atmosphere, and with two young, attacking players, it should be entertaining."

Allen also spoke optimistically about snooker's future following the recent release of the calendar for next season. "The players just want to play snooker, and with Barry Hearn taking over, it seems like there will be more opportunities, so it looks good," added the Antrim cueman.

Home favourite Ding ended Ebdon's reign as champion with a 5-2 victory. The Wuxi Wonder, who also beat Ebdon on his way to this title in 2005, cruised into a 4-0 lead with runs of 93, 121 and 92. Ebdon recovered to 4-2 with a top run of 70 before 23-year-old Ding sealed victory with a 65.

"I played ok. I know Peter is a cautious player but I won the first two frames in one visit so I made it difficult for him," said Ding, who is the only player in the field with a chance to win a second ranking title this season having captured the Pukka Pies UK Championship in December. "In the past I was too attacking, but now I have learned a better balance between attack and defence. My safety will need to be good against Mark Allen."

Ebdon said: "Ding was very strong. I expected to win, and maybe in a longer match I could have come back to beat him, but I didn't get enough chances early on. It's full systems ahead now for Sheffield. I am mentally strong enough to be World Champion again and I think I could be difficult to beat."