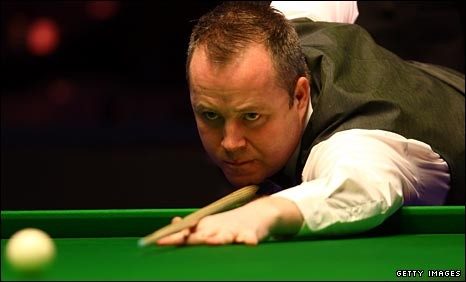 The World Championship begins at the Crucible in Sheffield on Saturday, with champion John Higgins facing Barry Hawkins in the opening session.
Second seed Ronnie O'Sullivan begins his bid for a fourth title on Monday.
The 34-year-old lost to Mark Allen in round two last year and faces a tough match against Liang Wenbo, one of three Chinese players competing.
Six-time winner Steve Davis plays in his 30th Championship, facing an all-Romford clash with Mark King on Monday.
Davis, now 52, is one of only two players - Stephen Hendry the other - to have retained the world title since the tournament moved to its famous Crucible home in 1977.
He believes three-time champion Higgins faces an arduous task and said: "Earlier this year I wondered if there would ever be another back-to-back winner of an event. Not just the World Championship.
Preparations pick up pace at Crucible
"While you could argue the World Championship has got more of a form line, where the best players always win compared to some of the best-of-nine ranking events, I still don't know if we're ever going to see the same winner again.
"I'm not saying it would be a fluke, but it would be quite an astonishing thing to do.
"John Higgins is one of the few players who is capable. Not many other are, I don't think.
"He's got enough experience to not take the weight of defence into the arena."
O'Sullivan won the first of his titles in 2001 and triumphed again in 2004 and 2008.
He has occasionally been criticised for his unpredictable attitude towards the sport but insisted: "I just know that every time I go and play I try to give it 100%.
"And sometimes when I play decent then I know everybody's having a good time and it's like hosting your own party.
"When you do turn it on, it's a great feeling, and when you're not you feel like you're letting people down.
"You feel like you're letting yourself down, you're wasting your time, and nobody's having a good time and they're waiting for something to happen and it ain't happening.
"And that can be quite demoralising sometimes because everybody wants to make someone happy.
"My way of doing that is through playing good snooker. And when I'm not playing well I get disappointed."
O'Sullivan faced Liang in the second round of the World Championship in 2008 and lost the first two frames before going on to win 13-7.
Having won his maiden professional title by defeating Stephen Maguire in the final to land the Beijing International in July 2009, Liang was runner-up to O'Sullivan a month later in the Shanghai Masters.
Liang, 23, also reached the quarter-finals of the 2009 UK Championship, before losing to Higgins.
O'Sullivan could face another former champion, Mark Williams, in round two should the combative Welsh left-hander overcome Marcus Campbell in round one.
Hendry, without a ranking title since the 2005 Malta Cup, begins against 18-year-old Chinese prodigy Zhang Anda and the seven-time champion admits he is uncertain what awaits him.
"I know nothing about him. Absolutely nothing. I've never seen him play, never met him, so it's tales of the unexpected!" he said.
"It can be a bit of a banana skin, because you don't know how he plays. Is he an aggressive player? I'm sure he is because all the players are these days. But is he slow? Is he fast? Is his long-potting a speciality?
"Last year I played Mark Williams, which was a tough first-round draw, but I knew what to expect."
The 41-year-old won five world titles in succession between 1992-96, famously thwarting crowd favourite Jimmy White on two occasions in that run, but has not captured the sport's greatest prize since 1999.
"My form's good in practice but that doesn't count for anything really," he said. "To win the world title, you need the confidence of tournament wins which I haven't had.
"All I can do here is take one match at a time and even when I was winning the World Championship I never found my best form in the first round, it was always in the final. You get better as the rounds go on.
"If I'm still here next week then who knows what might happen?"