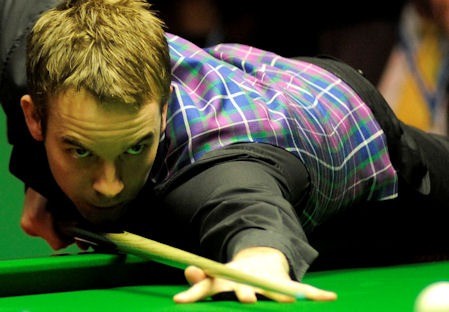 Ali Carter drew within a match of back-to-back ranking finals by beating Mark King 5-1 at the Sanyuan Foods China Open, and will now play Mark Williams in the semis in Beijing.
Essex potter Carter has been in fine form in recent months, reaching the quarter-finals of the Pukka Pies UK Championship, the final of the totesport.com Welsh Open and now the last four here in China's capital.
He shared the first two frames against King, making breaks of 56 and 55 in the first before his opponent hit back with a 74, and though his top run in the remainder of the match was just 49, Carter always looked in control and eased through the last four frames.
"I've been very consistent in the last three events and building well towards Sheffield," said World No 5 Carter. "I'm just playing my game and not worrying about the result. I've got no expectation of winning, I'm just going out there, concentrating on the balls and seeing where that takes me.
"Mark Williams is back to form and playing very well. He beat me in the Masters so it would be nice to get one back on him."
Welshman Williams, champion here in 2006, got within two matches of reclaiming the title by beating Hong Kong's Marco Fu 5-1.
The left-hander stormed into a 3-0 lead with breaks of 63 and 116. Fu pulled one back before Williams knocked in 51 and 52 for 4-1 then sealed the result in frame six.
"I was solid, I made some good breaks and punished his mistakes," said twice World Champion Williams. "That's how I've been playing in all three matches here and if I keep that up I will be a tough opponent.
"I getting back near where I was four or five years ago. I'm not quite there yet - I need more practice and hard work. But every match I win gives me more confidence."
Semi-final line up (local time):
2.30pm: Mark Allen v Ding Junhui
7.30pm: Mark Williams v Ali Carter