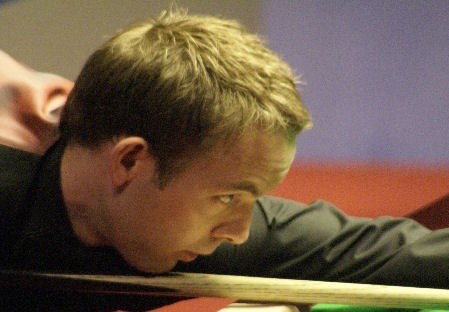 Qualified pilot Allister Carter cruised past Jamie Cope 10-4 in the Betfred.com World Championship
Flying high after leading 7-2 from the first session over Jamie Cope, Ali 'The Captain' Carter extended his margin further taking the opener with a 75 break.
Stoke player Cope, who is known for his attacking and explosive play, gained some respectabilty taking the next two frames, showing a glimpse of his quick-fire scoring when knocking in a fluent 8i in frame twelve.
Carter the 2008 Runner-up responded immediately, leaving himself needing just one more frame for victory with a polished run of 83. He didn't have to wait long, eleven minutes later the players were shaking hands as Carter wrapped up a comfortable 10-4 win over the qualifier.
He now plays Joe Perry in a repeat of there semi-final match in 2008, scheduled to start Saturday 24th at 7pm.
Jamie Cope comments

Iím disappointed but I beat myself again really. Thatís my main problem really, Iím not really mentally strong enough in these sorts of matches. I think it is the only problem that I have got but it is the main one really. It is something I have got work on over the summer because it is costing me too many matches now.

I was really confident coming into the match, but when I started losing frames I started losing a bit of confidence. I just completely beat myself in the first session and thatís why I lost.

I got going for a couple of frames today but the gap was too big really. I think I am going to see a sports psychologist, because I do honestly think it is my only problem stopping me from challenging for titles. I am just not strong enough mentally for some reason, some matches I am and some I am not and it is not good enough really.


Allister Carter comments

Itís never easy to win here but Jamie gave me a lot of chances and I kept the pressure on him. I didnít really expect anything going into the match, I just tried to worry about myself. I was prepared for him to have his spell of frames where he threw his arm at everything and got everything but that didnít really happen.

I just tried to keep things tight, I did not score heavily but I played good match play in the first session. You could see he got frustrated and I did a really good clearance to go 7-1 up which I think rubbed salt into the wound really.
I was 8-2 up after the first frame today but I was aware that he could win frames quick fire and it could be 8-4 or 8-5 before I knew it, so I just had to keep the pressure on.

I am just going to turn up and play snooker and see what happens. I have no expectations, no hope of winning, I am just playing snooker and seeing what happens. You canít control winning, all I can control is how I play and if I play well the rest will take care of itself.

Joe is a very good player and has probably got a bit of confidence after winning his first match as he has had a pretty hard season. It is going to be a tough match, there is no such thing as an easy match here. Stephen Hendry proved that last night, playing someone no one had ever heard of and all of a sudden he is 9-7 down which shows how hard it is. Everyone can play these days.