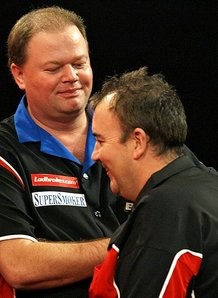 Phil Taylor has warned old rival Raymond van Barneveld he needs to raise his game if he is to make it into the Premier League play-offs, as the two prepare to meet again in Cardiff on Thursday.
Barney was thumped 8-2 by Taylor in Exeter in week four, and as the second half of the season starts the Dutchman will again take on the 15-time world champion, this time hoping for a positive result.
Van Barneveld has just two wins from seven matches so far and sits second bottom of the table, and 'The Power' thinks he is in big danger of missing out on the Wembley play-offs.
"Barney's got to up his game," said Taylor. "He's not the normal Barney that we know, but he needs to settle down now and start putting the work in.
"He's not doing as much as he used to do and I think he loses heart when people are playing well against him."
Tight table
Barney is just four points off a play-off spot though, with the table looking tight at the half-way stage, with Australian Simon Whitlock currently in fourth - and he takes on Ronnie Baxter in Cardiff.
"Ronnie beat me 8-6 earlier in the season and I want to get him back this time," said Whitlock. "That was the first time I've played him and I'm looking forward to playing him again.
"He's a fast player but I'm just going to try and play my own game this time and slow him down a bit. I might have got into his rhythm last time, but I can play fast as well."
The visit to Cardiff sees reigning champion James Wade take on Adrian Lewis, with the pair having battled out a thrilling draw in Exeter a month ago - which was Wade's first point of the season.
"This time I'll be ready for him and he'll have to play a good game," said Wade. "It's easy to be a hunter for a weak prey but this time I won't be a weak prey.
"I respect Adrian and think he's a quality guy, but sometimes he lets his mouth do more work than his darts."
Bull run
Terry Jenkins is looking to end a run of four successive defeats when he takes on high-flying Mervyn King, with the 2007 runner-up sat bottom of the table at the half-way stage of the league season.
"I'm not too worried really at the moment because I've played quite well in the first half of the season," said Jenkins. "If I'd played rubbish every week I'd be disappointed but my form has been pretty good and last week was my worst game, against James Wade.
"Mervyn is consistent and that's one big thing about his game. You have to try and get an early lead against him because you can then make him think a bit about his game.
"If I can get a win against Mervyn on Thursday and then another win next week I could be back in the top four, which shows how tight the league table is."