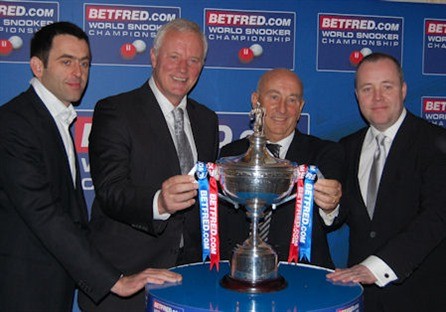 World Snooker Chairman Barry Hearn described the Betfred.com World Snooker Championship as one of the best events in all of sport as the tournament was launched in London yesterday.
Ronnie O'Sullivan, John Higgins and Betfred Boss Fred Done joined Hearn at the RAC Club to look forward to the greatest snooker show on Earth, which runs from April 17 to May 3 at the Crucible Theatre in Sheffield.

"The reason players take up snooker is to win the Betfred.com World title," said Hearn. "Steve Davis once said to me that you can win every tournament in a season, but it means nothing if you don't win the big one. To follow in the footsteps of the great names who have lifted the trophy - we're talking about history.

"It's a major part of the sporting scene. There's a buzz about snooker at the moment and ticket sales have smashed records. I'm not going to miss it because this is a must-go-to event. The royalty of our sport will be there. It's the biggest stage with the biggest audience, and with the support of the players we can shock the world."

Fred Done added: "I'm so proud to be able to sponsor this. It's the best tournament in snooker and I can't wait for it to start. At this event we're betting to the best percentage available on the punters' behalf, because we like to look after the punters."